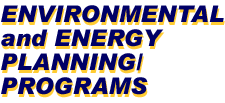 • Overview
• Metropolitan Environmental Trust (M.e.t.)

REGIONAL WATER QUALITY PROGRAMS
In 1990, EPA finalized regulations requiring stormwater discharge permits for many types of "industrial activities" and for cities over 100,000 population. In 1999, EPA passed "Phase II stormwater regulations" requiring stormwater discharge permits for many smaller cities and some counties in Oklahoma. The purpose of these discharge permit programs is to control pollutants in stormwater runoff from urbanized areas, still considered to be a major source of water quality pollution.

To help its municipal membership, INCOG created the Green Country Stormwater Alliance (GCSA), a coalition of many of the state's stormwater permitted cities and counties.

Formerly grant-supported, GCSA is now sustained by annual dues. INCOG provides employee education and training, research of technical and legal issues facing permittees, preparation of document templates and guidance, and provides local assistance to staff and elected officials on the complexities of the permit program.

For more information about GCSA or membership, contact stormwater@incog.org.
INCOG continues to participate in many state work groups and committees which address 303(d) impairments, Total Maximum Daily Load (TMDL) strategies, water quality standards, wetlands and groundwater issues, nonpoint source pollution, wasteload allocations for point source dischargers, and development of nutrient criteria.

INCOG also participates in work groups concerning the water quality of local economic development initiatives such as the Arkansas River Corridor Master Plan. INCOG also samples area streams and rivers to characterize water quality for assessing impairment status, determining water quality baselines and trends, and to investigate options for establishing regional TMDL monitoring that will be needed in the future.